This article originally appeared on Village Square.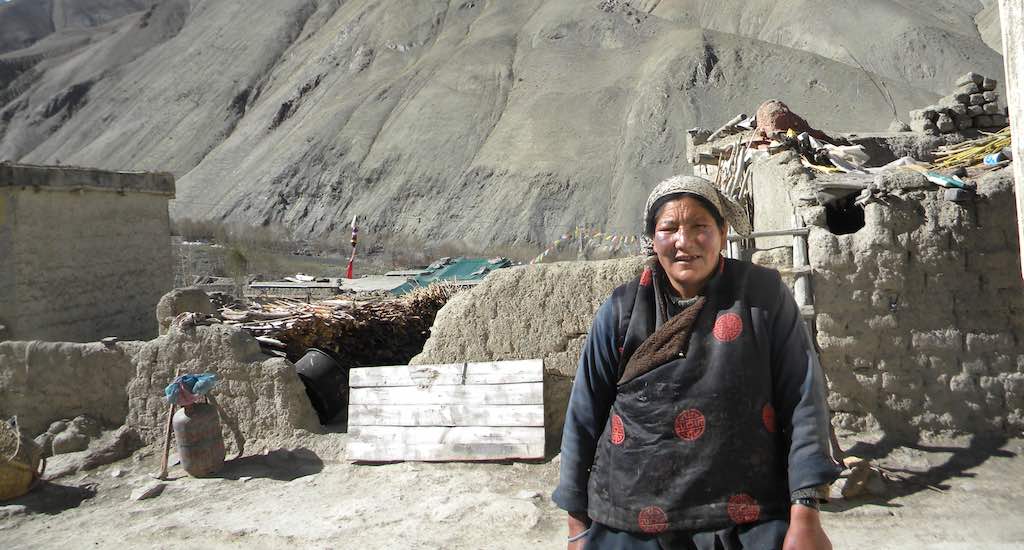 Photo: Sharada Balasubramanian
Past a vast expanse of brown, barren ridged mountains crowned in snow, glaciers, icicles and cold streams from snow melt, a narrow winding road leads to Rumbak village within the Hemis National Park in Ladakh. Rumbak, which hosts the critically endangered snow leopards in its vicinity, is also home to nine Ladakhi farmer households.
On reaching the end of a bumpy road, the villagers get off their vehicle and open a barricade. "There is no road from here. You have to walk for 10 km to reach the village," said 33-year-old Tsewang Gyaltsan, a villager from Rumbak. With no medical and transport facilities in this remote village, he recalled taking his pregnant wife to Leh three months ahead of delivery.
Mules are the villagers' only vehicles. From the point where the road ends, people mount sacks of flour, vegetables and other groceries on their mules. "The mules carry our gas cylinders too," Gyaltsan told VillageSquare.in. They carried the solar panels to electrify the village. In fact, the panels were designed according to the carrying capacity of the mules.
Loss of livestock
The villagers in this region face not just the harsh terrain and weather, but also constant conflict with snow leopards that take away their livestock. "Normally, villagers lose 2% to 6% of income to livestock depredation; this number varies across regions," Tsewang Namgail, director of Snow Leopard Conservancy India Trust said.
The key issue among villagers is losing their livestock. Snow leopards do not kill one, but all the livestock. There is a myth among Ladakhis that snow leopards drink only blood and do not eat the flesh.
"To mitigate this conflict, we thought that the number of livestock and livestock owners should be reduced," said Jigmet Takpa, chief conservator of forests, Leh. For instance, if 10 people were into livestock business, only one or two should maintain livestock. This would be possible only if villagers had an alternate livelihood.
Homestays for income generation
Though tourism thrives in Ladakh, most of the income goes to the hotels and travel companies. Trekkers visiting these places bring their own tents and camping equipment. The local people gain little from the tourism boom.
According to Namgail, some villagers expressed a wish to introduce homestays for trekkers and snow leopard enthusiasts. The Snow Leopard Conservancy India Trust officials tried to first understand if trekkers would take to the idea. They surveyed the trekkers, asking them if they would prefer staying with the locals, and how much they would spend for a homestay.
With encouraging survey results, the project was started a few years after the turn of the millennium. Though some villagers were uncomfortable with the idea of having strangers in the house, they agreed eventually.
The Snow Leopard Conservancy India Trust and local communities worked on this project, and later the Jammu and Kashmir Wildlife Protection Department took over. "We gave the local people extensive training in cooking, behaviour etiquettes, identifying wildlife in this region, and in extending hospitality to the guests," Takpa said.
Gyaltsan said, "The officers trained me in identifying local birds and in locating snow leopards. I accompany trekkers on snow leopard trails."
Over the years, the department has successfully established over 1,200 home stays. The forest department formed a committee in every region, with one person from every village. They told the villagers to draft their own rules and regulations, decide on a name for the committee and register it. The villagers of Rumbak named it Youth Association for Development of Hemis National Park, the name clearly spelling out its aim and objectives.
Conflict resolution
The initial focus of the project was to address the direct conflict with snow leopards. The agencies gave the villagers wire mesh to cover or mend broken cattle pens. Further, they immunised cattle coming from the plains to prevent epidemic outbreak among the local livestock.
A community control for insurance and livestock programme was also set up for loss of livestock. Villagers collected Rs 50,000. The Snow Leopard Conservancy India Trust put in an equal amount of money, created a corpus fund and deposited it in the bank.
"This money was used to compensate loss of livestock, else kept in the bank to accumulate over years," Namgail said. Today, people own less livestock, but wherever it is prevalent, Snow Leopard Conservancy India Trust initiates this scheme, and local people run the show entirely.
Economic and social impact
With the homestay scheme, the snow leopard conservation project has brought social and economic transformation among villagers. According to Takpa, people now consume nutritious food, which was not easily available to them. "When they cook for trekkers, they also eat a healthy and wholesome meal," he said.
"Both, our income and food problems are solved. Earlier, we travelled to far off places to cut logs, took them to town with the hope of selling them and earning some money. It was very unpredictable, as sometimes we could sell and sometimes we could not," said Nwang Yongtan, a 75-year old farmer. "With the homestays, our living conditions have improved."
According to Namgail, when the initiative was started, people were earning Rs 20,000 per year. Thanks to the ecotourism initiative, the community has benefitted economically. "I earn about Rs 1.25 lakh per year, and 10% of this money goes to the community," Gyaltsan said. He takes pride in sending his children to school in Leh.
There was no medical centre in the village; today, there is a small clinic where three doctors take turns to visit. The village, which was cut off from any communication with the outside world, now has a satellite phone.
Benefits for women
Tashi Tsonma, a villager, is relieved that there are solar heaters in the village. "I don't have to walk for long distance in search of logs to heat water," Tsonma said.
The forest department has provided diesel generators. However, Sonam Dolma, another villager, uses only solar panels to light the house in the long dark evenings. "With solar panels, we get power for almost six hours in the evening. Life is comfortable now."
Usually in summer, the men drink local beer and come home. "I was amazed to hear from the women that the discipline in the Ladakhi homes has improved," Takpa said. "When there are guests at home, they cannot drink, and slowly non-alcoholism has turned into a habit."
The women in the cold desert are economically empowered now. Through Snow Leopard Conservancy India Trust's handicraft development programme, women create products like snow leopard souvenirs from wool. "It is a good source of income for women here. There is a good demand for these products from trekkers," said Namgail.
The villagers of Rumbak, who were cut off from any development, now lead a better life.
Sharada Balasubramanian is a Coimbatore-based journalist.