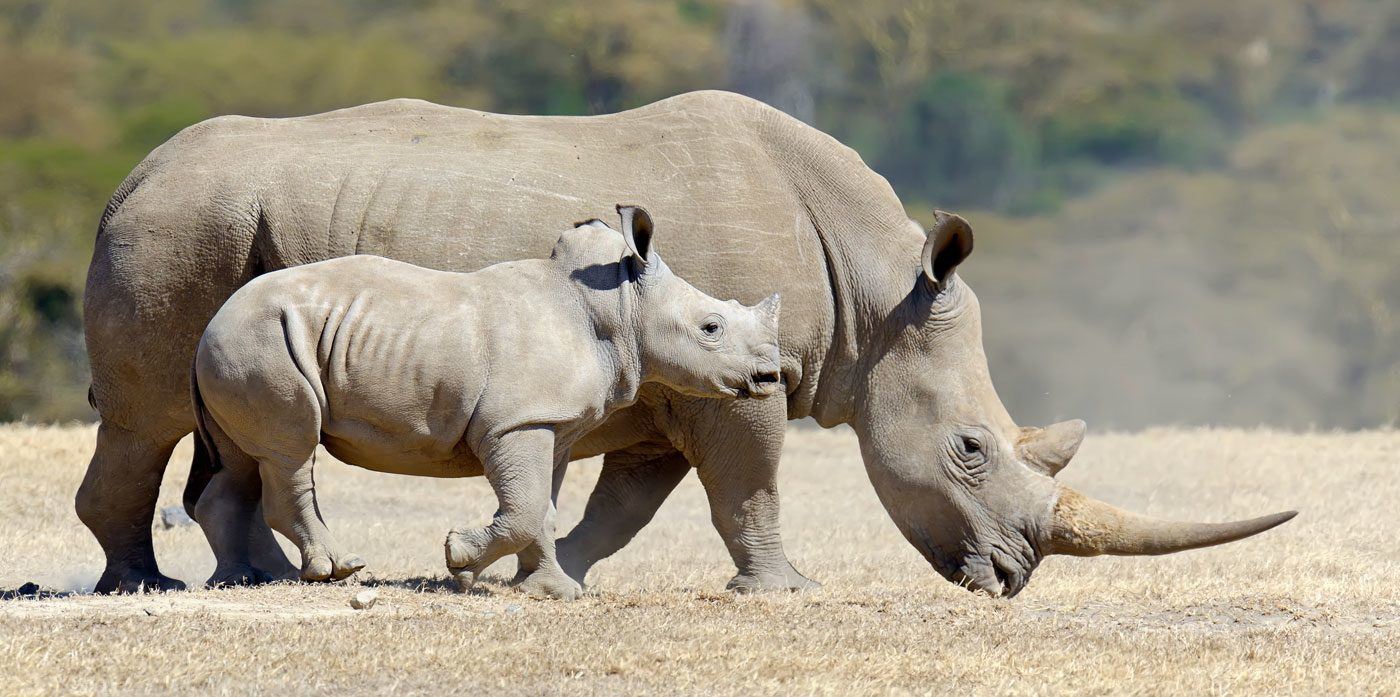 Rhino
Rhinos prefer to roam the world on their own and jump from even-tempered to volatile. They're also stubborn to a fault. 
WHERE THEY ARE FOUND
Africa and Asia
WHY THEY ARE IMPORTANT
Iconic "big five" species such as rhinos bring in tourism revenue for the countries where they live and inspire the imagination of children across the globe, encouraging an interest in nature. Large mammals like rhinos and elephants are also architects of ecosystems, balancing forests and grasslands, and in turn enabling many other species to thrive.  
HOW THEY ARE THREATENED BY ILLEGAL TRADE
About 96% of black rhinos were lost to large-scale poaching between 1970 and 1992, and although numbers have recovered since, today there are now just 4,800 black rhino individuals left in the wild. Rhino populations and sub-species have disappeared entirely from several Asian and African countries in recent years. In 2011, the Western Black Rhino was declared extinct, and there is only a single surviving individual of the Northern white rhino.
The last remaining populations of all rhino species are at risk from the renewed surge in poaching driven by demand for their horns. There is a long history of using rhino horn for carvings and for perceived medicinal benefits, especially in Vietnam and China. Today, powder from the horn is still used as a perceived medicine, including for hangover cures, and also as a status symbol. Raw horn is desired by speculators, who bank on price increases as the animals become rarer.
CITES Listing: All  five species of rhinos (2 in Africa, 3 in Asia) are included in CITES Appendix I except for the populations of white rhino in South Africa and Swaziland. International commercial trade in rhino horn is prohibited.
HOW YOU CAN HELP
Urge your friends to support campaigns that are advocating for the survival of rhinos. Learn more about community and conservation projects that support jobs for people living with rhinos. Don't buy into fads that threaten species.
Increase in rhino poaching in South Africa between 2007 (when 13 rhinos were illegally killed) and 2014 (when over 1200 rhinos were illegally killed).