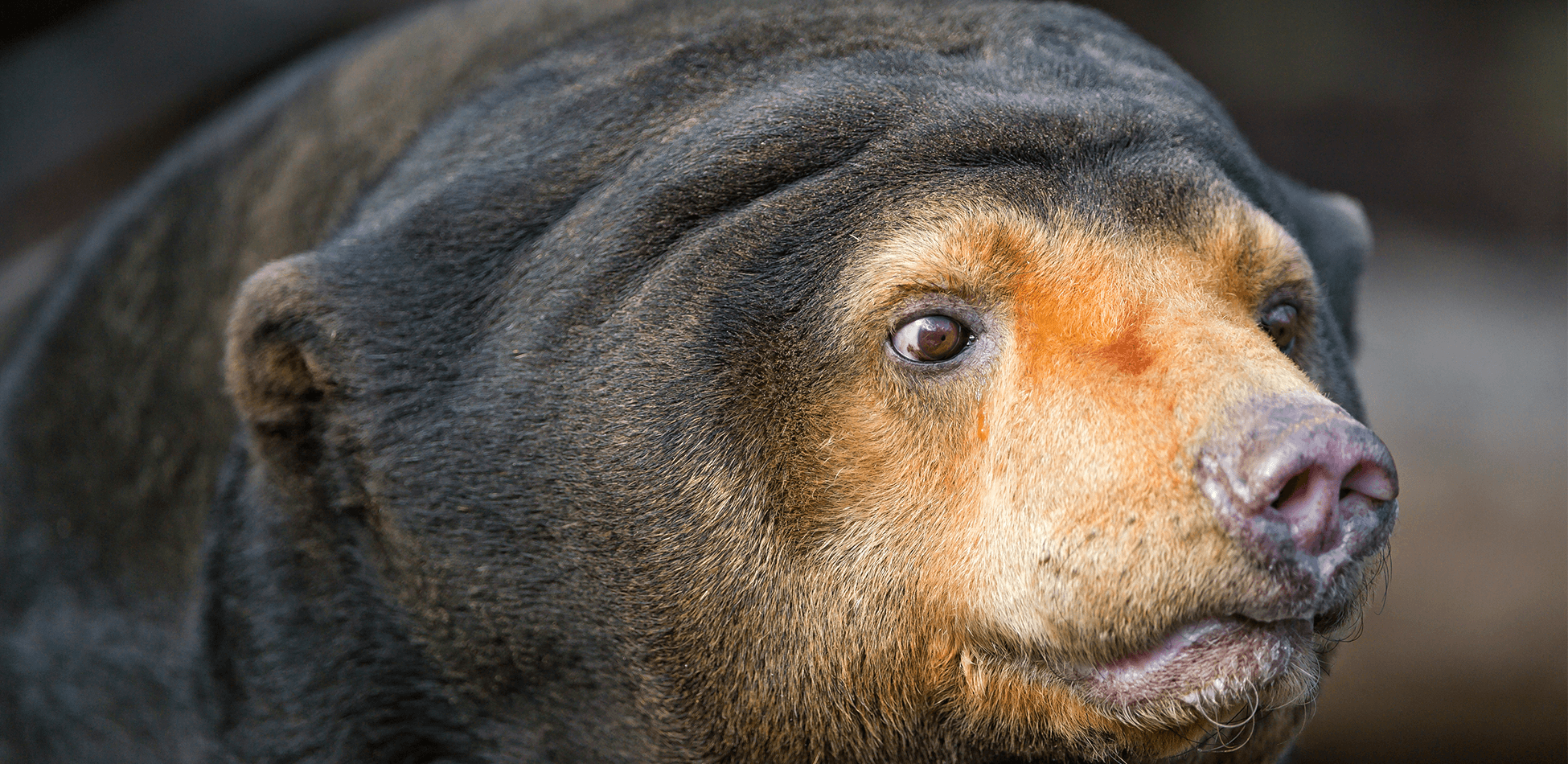 Sun Bear
The Sun Bear, also known as honey bear and Malayan Sun Bear, is the smallest of all 8 bear species and is considered the most arboreal (tree-dwelling). A Sun Bear's diet consists mostly of invertebrates, termites, fruits and honey. Their long sharp claws are designed especially for tearing open trees where insect and bee nests can be found and slurped up using their extra long tongue.
WHERE THEY ARE FOUND
Tropical lowland forests of Southeast Asia
WHY THEY ARE IMPORTANT
The Sun Bear's behaviour helps ensure the health of the forest. They disperse seeds and keep termite populations down, helping tropical tree species. They dig for invertebrates in the soil, which enhances the forest's nutrient cycle through the mixing of rich and poor soil. And they create nesting sites for animals such as hornbills and flying squirrels, by tearing open tree trunks to reach the honey inside.
HOW THEY ARE THREATENED BY ILLEGAL TRADE
Sun bears depend heavily on forests, and deforestation in Southeast Asia is destroying their habitat. Sun bears are primarily hunted for their gall bladders (for use in Chinese folk medicine) and bear paws (as an expensive delicacy). In China and Vietnam, bile is milked from bears while they are still alive. Bears are routinely re-stocked as they do not live long. Killing of Sun Bears is illegal in all of their native countries but is largely uncontrolled.  There is also high demand for use as pets due to their small size. The mother is killed and the orphaned cub is removed from the wild and commonly kept in small cages with inadequate care.
HOW YOU CAN HELP
Support anti poaching campaigns and encourage more frequent patrolling and monitoring of protected areas where they live. Don't be afraid to reach out to local authorities if you see Sun Bears in captivity. Don't buy any bear products!
Sun Bear's global population has declined by 30% over the past 30 years.