Can you out-run a wild snow leopard?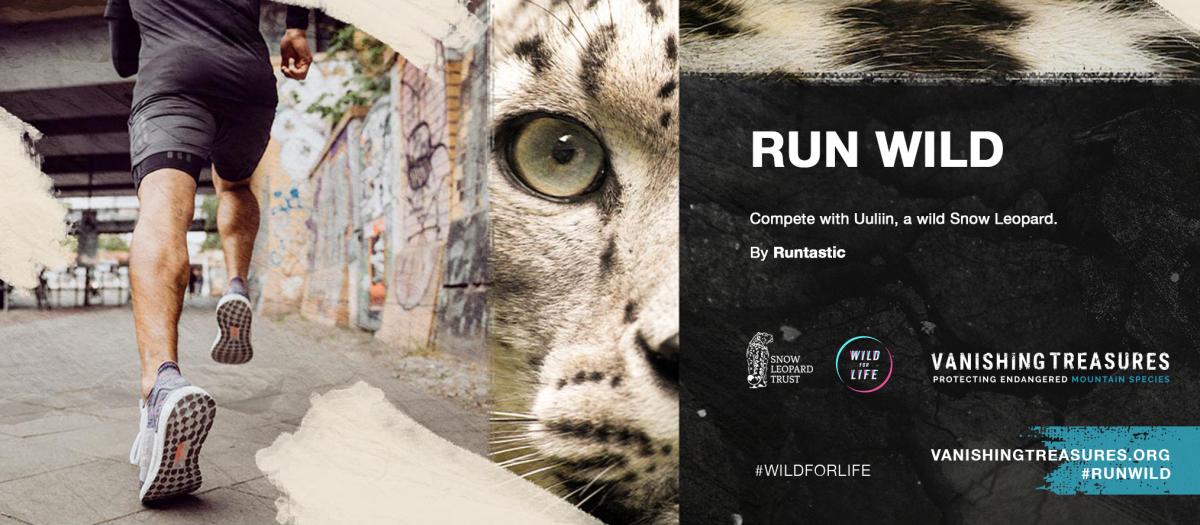 adidas Runtastic, Internet of Elephants, the Snow Leopard Trust and the United Nations Environment Programme (UNEP) have teamed up to give millions of runners worldwide the opportunity to interact with and take action for snow leopards.
Beginning October 23, International Snow Leopard Day, you can compete with Uuliin Ezen, a wild snow leopard from Mongolia, on the free adidas Running app. Uuliin is tracked for scientific purposes by the Snow Leopard Trust, the oldest and largest organization dedicated to protecting snow leopards in the wild. His running statistics will be posted daily in the app, giving you the chance to push yourself to outrun him. You will also be given the opportunity to contribute to the conservation of Uulin and other snow leopards through the app.
Download the Runtastic app to sign up for the challenge!
About Runtastic
Founded in 2009, Runtastic has become a leader in the digital health and fitness space, providing optimized tracking solutions for collecting, managing, and analyzing running and training data, as well as curated content. Since 2015, the Austrian company has been part of the adidas family and continues to develop fitness apps to pursue the companies' core belief: Through sport, we have the power to change lives. With personalized training plans and motivating features in the adidas Running and adidas Training by Runtastic apps, as well as educational content, Runtastic wants to create the best possible running and training experiences to encourage every individual to live a more aware and active lifestyle, leading to a longer and happier life. More than 280 million downloads and 150 million registered users speak for themselves. Additional information can be found at Runtastic.com or you can follow us on Facebook, Instagram, LinkedIn, or on the adidas Runtastic blog.
About Internet of Elephants
Internet of Elephants is a one-of-a-kind creative company based in Nairobi, founded in 2017 by National Geographic Fellow Gautam Shah. IoE combines conservation science, technology and storytelling, to create fun and meaningful connections between humans and wildlife. With a mission to make animals like Uuliin the snow leopard, Chili the gibbon, and Mtweturia the elephant as famous as Beyoncé, Neymar, and Jon Snow, Internet of Elephants wants to change the way wildlife conservation is supported today.
Additional information can be found at  www.internetofelephants.com or by following them on Facebook, Instagram, and Twitter.
About the United Nations Environment Programme (UNEP)
The UN Environment Programme is the leading global voice on the environment. It provides leadership and encourages partnership in caring for the environment by inspiring, informing and enabling nations and peoples to improve their quality of life without compromising that of future generations. UNEP works with governments, the private sector, civil society and with other UN entities and international organizations across the world. UNEP, through its WildforLife campaign, works closely with various partners to prevent and reduce demand for illegally traded wildlife products and to reverse these trends in order to protect vulnerable species and  the human well being that depends on healthy ecosystems. Another key driver of change as noted in the IPBES report is climate change. UNEP through its VanishingTreasures programme supports climate-smart wildlife conservation of endangered mountain species such as the iconic snow leopard in Central Asia, Royal Tiger in Bhutan and mountain gorilla in Virunga.
About Snow Leopard Trust
Founded in 1981, Snow Leopard Trust is the largest and oldest organization dedicated to conserving snow leopards and high mountain ecosystems of Asia. SLT is a global leader in snow leopard science and community-based conservation. Headquartered in Seattle, this international organization supports conservation efforts in all the 12 countries of Asia where endangered snow leopards occur. Additional information can be found at www.snowleopard.org and you can follow us on Facebook, Instagram or Twitter.