Celebrate World Snow Leopard Day with #RunWildForLife!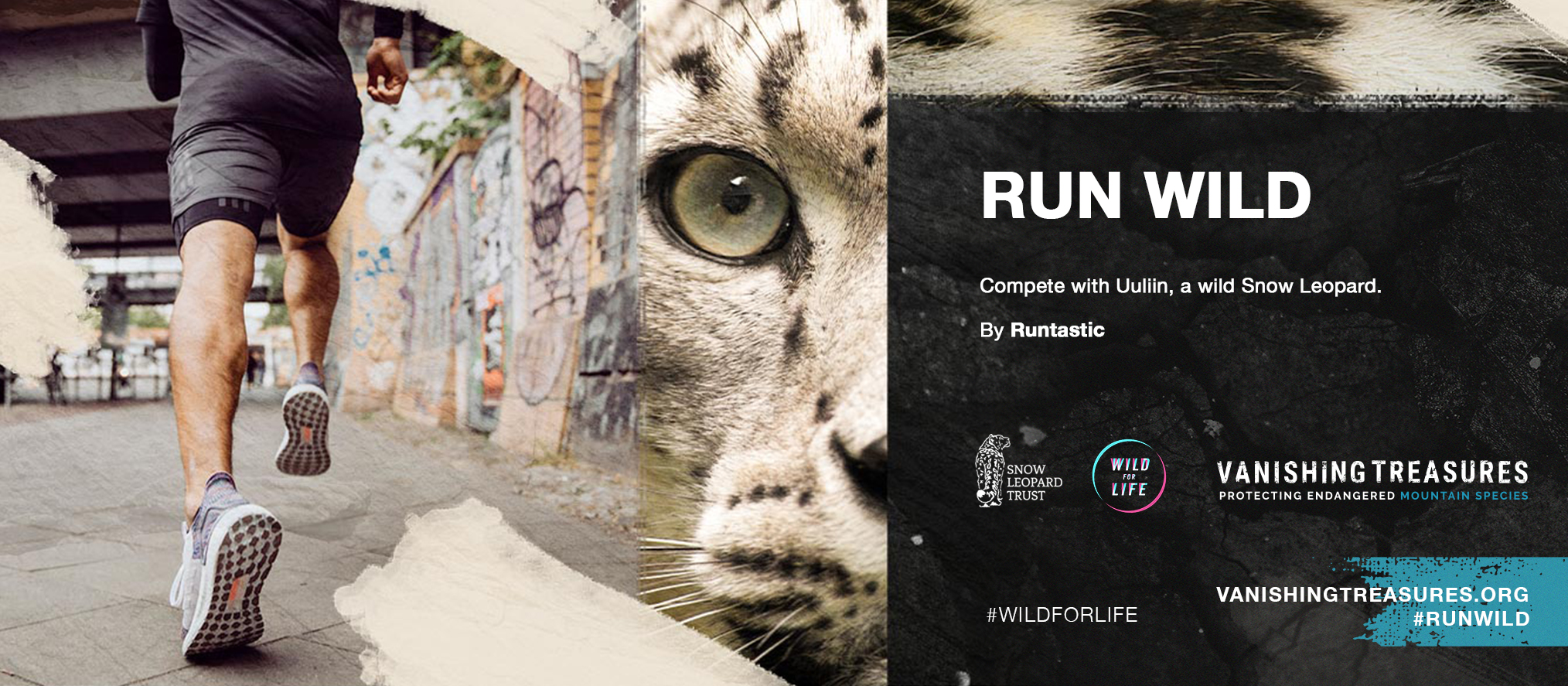 Most of us have seen a snow leopard as a desktop background, in a social media post, or in a documentary. But few have ever seen one, the Ghost of the Mountains, in person.
There are only an estimated 4,000 to 7,5000 individuals remaining in their Central and South Asian mountain habitat. This unqiue cat's population has been declining due to a demand for their skins, which are used for home décor, taxidermy, and fashion. The habitats they call home are also under pressure from climate change, habitat loss, conflict with humans, and shifts in the way land is being used by industries.
#WildForLife fans voted last year to donate funds from our Big Cat Team Challenge to the Snow Leopard Trust. The Trust used the donation to purchase camera traps that help monitor snow leopard populations and guide efforts to protect them (see our video with the exclusive footage!)
This International Snow Leopard Day, join the #WildForLife campaign in celebrating this king of the mountains and helping ensure its survival.
Here's how you can help:
Run Wild. 
UN Environment, adidas Runtastic, Internet of Elephants, and the Snow Leopard Trust have teamed up to activate millions of runners worldwide to take action for the snow leopard. Between October 23rd and November 3rd, you can race against a real wild snow leopard in the free adidas Runtastic app. Uuliin, a real Mongolian snow leopard, is tracked using GPS technology for scientific purposes by the Snow Leopard Trust and its partners. For these 12 days, you can push yourself to beat Uulin's running stats and receive information on how to contribute to the conservation efforts that keep him safe. Add more excitement with an amazing story run narrated by Bob Taylor and UNEP Goodwill Ambassador Dia Mirza!
Read more about the Run Wild initiative and sign up for the challenge here.
Learn more. 
Visit #WildForLife's "Learn" page on snow leopards to discover more about why they are important and how they are threatened by illegal trade. Share this information with friends and family to help curb the demand for wildlife products.
You can also learn more about how climate change affects snow leopards and many other species through UNEP's newly-launched Vanishing Treasures program. 
Show your spots. 
Tell the world you see eye-to-eye with snow leopards by uploading your photo and letting #WildForLife generate a personalized "morph" with a snow leopard. Share the photo on social media and encourage your friends and family to create their own morph.
Click here to create your personalized image.
Take the pledge.
Join UN Environment and the millions of others who have pledged their protection for endangered species. You can use our generic pledge, or write your own that tells us what the snow leopard means to you.