This article was originally posted at https://www.unenvironment.org/news-and-stories/story/hear-them-roar-chin....
Did you know that a small number of Siberian tigers still roam the wilds of Jilin Province in northeastern China? The province borders North Korea and Russia and the area is the northernmost habitat of this species of tiger, also known as the Amur tiger. Tigers are the largest of the world's big cats. This magnificent creature features distinctive orange and black stripes and a beautifully marked face.
About 540 Siberian tigers are estimated to exist in the wild in a huge area straddling Russia, China and possibly North Korea, having made a comeback from the brink of extinction in the 1940s, when only about 40 Amurs were left, according to the World Wildlife Fund.
Wang Junkai, Chinese teen singer and celebrity, is a UN Environment National Goodwill Ambassador and an outspoken defender of endangered wildlife. He chose to impersonate the tiger for UN Environment's Wild for Life campaign, and has been working for the past months with the Chinese government to protect the country's few wild specimens and raise awareness about their plight. On the occasion of International Tiger Day, which celebrates the great cat and calls for its protection, Junkai will visit rangers in Jilin Province to find out about their work and offer them financial assistance.
"We youth have the responsibility to protect our environment and secure our future," said Junkai at his nomination ceremony in April 2018. "Youth are no longer merely onlookers when it comes to environmental action, nor should they be." Junkai's involvement is good news for tigers – his past pro-environment social media campaigns have been hugely successful, thanks to his immense popularity and influence among Chinese youth.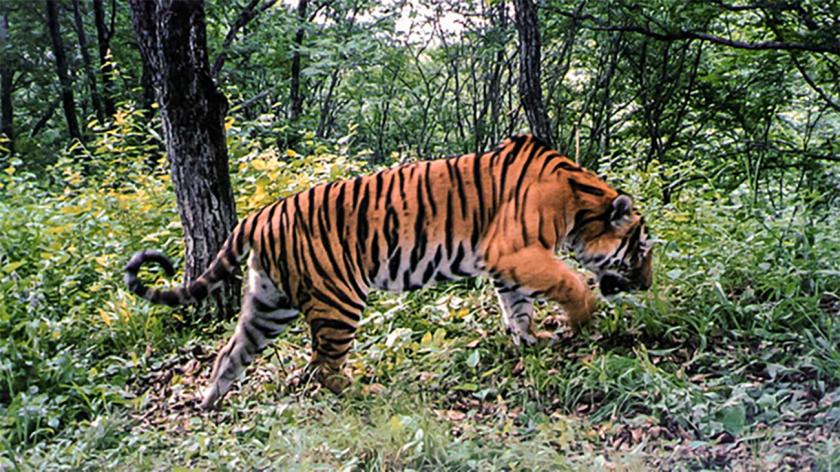 New park, new life
By the end of 2020, China announced plans to open the Northeast Tiger and Leopard National Park to help preserve the ecosystem in which small numbers of Amur tigers and leopards live. Officials hope it will bolster populations of the endangered big cats.
Since the beginning of the 20th century, over 95 per cent of the world's wild tigers have disappeared, and only around 3,900 still roam wild. Junkai plans to raise further funds for tiger protection through his foundation, Kindle Blue Fund, and by selling 3,900 T-shirts, co-designed with UN Environment.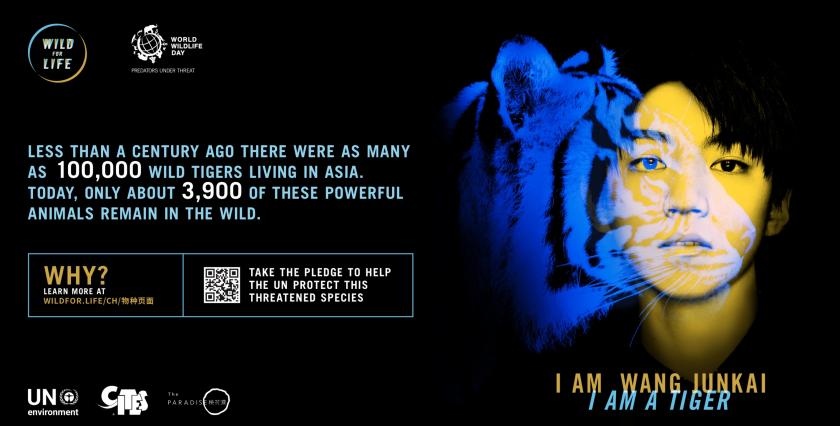 Tigers are found in the wild in Bangladesh, Bhutan, China, India, Indonesia, Laos, Malaysia, Myanmar, Nepal, Russia, and Thailand. Around half of all wild tigers are found in India, which has recently achieved some successes in tiger conservation. A recent survey in Bhutan, which has 72 per cent forest cover, found 103 wild tigers.
During the 20th century, tigers became extinct in Western and Central Asia, and were restricted to isolated pockets in the remaining parts of their range. They disappeared from the island of Bali in the 1940s, around the Caspian Sea in the 1970s, and from Java in the 1980s as a result of habitat loss and the killing of tigers and tiger prey. The estimated area known to be occupied by tigers declined by 41 per cent from 1997 to 2007.
The South China tiger, believed to be the most ancient of the tiger subspecies, is extinct in the wild. The last confirmed sighting was in the 1970s. As of 2007, the captive population consisted of 73 individuals.
Join the Wild for Life to protect iconic species and their habitats.