Saving Malelang Jaya: Second Chance for a Sumatran Tiger in the Leuser Ecosystem
\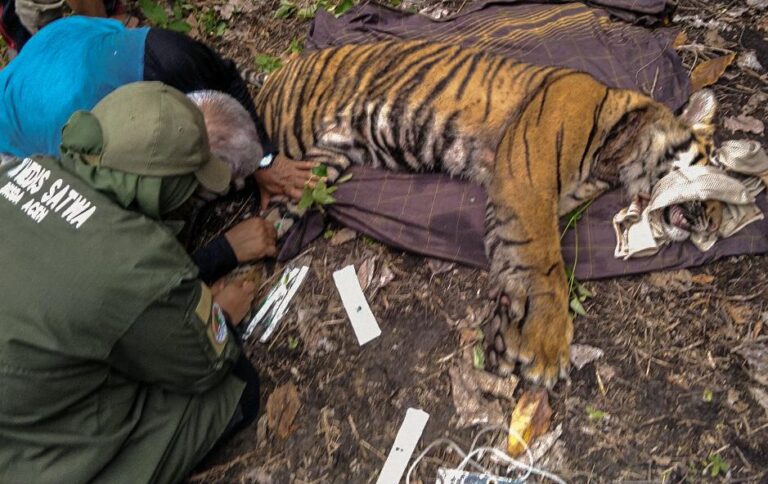 drh. Anhar Lubis (FKL's Head Veterinarian) and drh. Rosa Rika Wahyuni (BKSDA's Veterinarian) administering intravenous fluids to MJ during on-site medical treatment. (Photo credit: FKL)   This article originally appeared
here.
2020 has been a tough year for all of us: humans and wildlife alike. As the COVID-19 pandemic unfolded and economic pressures in Aceh and North Sumatra have driven more people to seek income sources from the forest, we have witnessed increases in forest loss in the Leuser Ecosystem after a four year steady decline in deforestation. The ongoing threats of poaching and human-wildlife conflict have also intensified. Leuser Conservation Forum (FKL), together with local government authorities, have rescued 3 tigers this year so far from wildlife snares. Fortunately we were able to successfully release all 3 back into the wild, however, a fourth tiger was recently found dead – apparently due to poisoning. These incidents mark an increase in human-tiger conflicts in comparison to our findings from previous years.
This particular story is about one of these 3 tigers which we rescued and released this year in Aceh, Sumatra. On October 17th, FKL received a report from a local official that a tiger had been found caught in a snare inside the Leuser Ecosystem. Fortunately one of FKL's teams including a veterinarian was close to the site and so able to act fast. They found the 2-3 year old female tiger in a critical condition, tightly wound up in a wire snare. She had obviously stepped into the snare and her desperate attempts to escape had served to tighten the trap further. She had possibly been trapped for 1-2 days and without attention she would have almost certainly died. Forming a team with the Natural Resources Conservation Agency (BKSDA) Aceh, Gunung Leuser National Park (TNGL), Forest Management Unit V of Aceh Province (KPH V) and other partners, we worked together to free her from the snare and treat her injuries. Never before had our experienced team seen a snare binding the whole body of a tiger in this way – it was tight around her upper chest and back, stomach, and neck. It appeared to be a snare set for crop pests like wild boar. We named her Malelang Jaya (or MJ for short), which is the name of the village near which she was found in Aceh.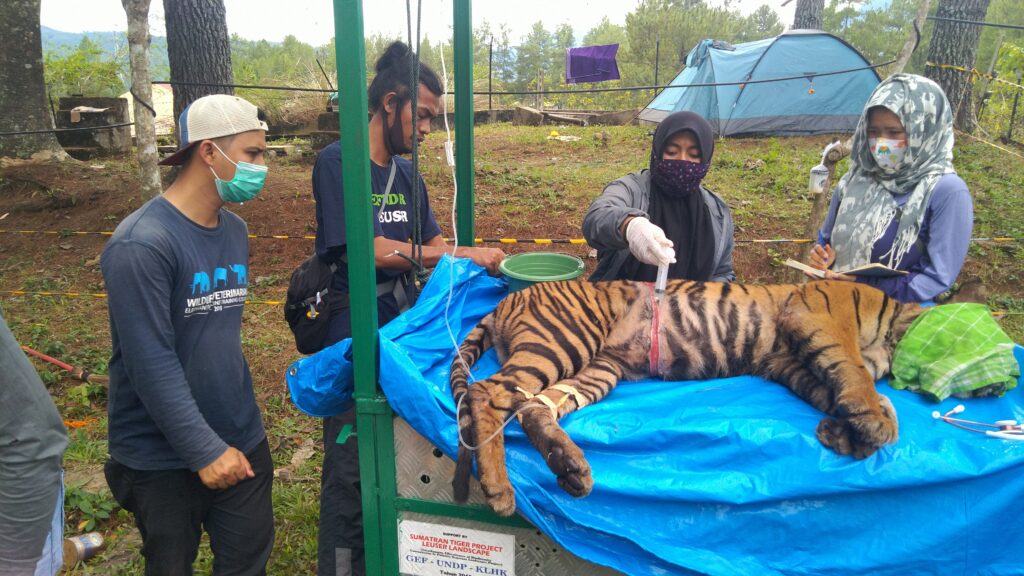 FKL veterinarian and rescue staff working alongside other partners to treat the injured tiger. (Photo credit: FKL)
On-site treatment included antibiotics and anti-ectoparasites agents, eye protection ointment as well as intravenous (IV) fluids and vitamins to improve her condition. Following treatment the medical team considered releasing MJ until they observed paralysis in both of her hind legs. The faster wildlife can be returned to the wild the better, however, paralysis would severely impact her ability to survive therefore she was moved instead to a safer location for further observation and intensive care. 
After tests and intensive observation the team suspected that the paralysis issue was likely caused by a circulatory system and motor neuron problem. The medical team treated the tiger with additional medications, IV fluid as well as proper nutrition. In order to determine when to release her, she was also regularly monitored by the medical team in terms of recovery, behaviour, and any signs of infectious disease, or permanent injury which could impact her ability to hunt.
Fortunately, in early November, Malelang Jaya's condition had improved sufficiently for the team to see the possibility of returning her to the wild. Based on information from the local community, on November 9th, the tiger was released in a location close to where she was found and a snare clearing operation was conducted by FKL prior to the release to ensure her safety. We are very grateful that this collective effort between FKL, BKSDA Aceh, DLHK Aceh, the local hospital, the community and other partners enabled the release to become a reality. ""This was the first and the worst case that I have ever seen of a tiger caught in a snare trap because the wire was wrapped completely around its body and neck" said Zulius, FKL's veterinarian. "The local community of Gayo Lues were very cooperative. In fact they encouraged us to release the tiger – close to where it was found so that it could return safely to the forest. They accept tigers as part of the environment where they live and they believe that tigers won't disturb us unless we disturb them", Zulius added.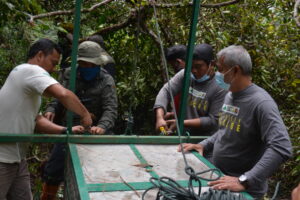 FKL and other partners untying the transport crate prior to MJ's release. (Photo credit : FKL)
The Sumatran tiger is one of the 4 charismatic key species in the Leuser Ecosystem and plays a pivotal role in the health of the ecosystem. They roam the mountainous forest regions of the Leuser Ecosystem as well as the lowlands. This is the last tiger species native to Indonesia and sadly it is classified as Critically Endangered by the IUCN. Many human activities threaten their existence with human-wildlife conflict and deforestation among the most serious threats they are facing. It is very important that all of us look at Sumatran tigers the same way as the local community of Gayo Lues does to prevent future conflict and to ensure the natural balance of the ecosystem.